Manual
Buy now
Get demo
VLB 902 DE-ESSER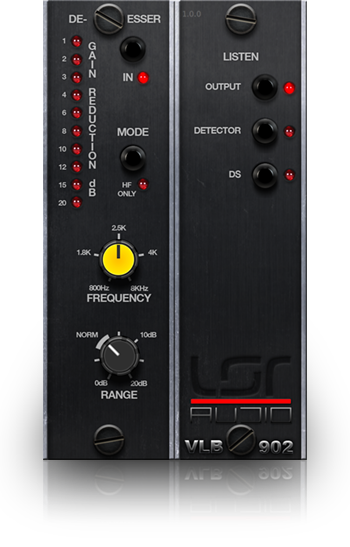 Classic studio de-esser
Faithful circuit emulation algorithm
Wide band / high frequency only gain reduction
No threshold, detection works at any level
Adjustable frequency
Range - amount of "ess" reduction
Gain reduction meter
Different listen modes, not present on the original hardware
Retina displays compatible

The sound of the 80's
Classic studio gear
The dbx® 902 de-esser was introduced in the early 80's. It was available as a module for the 900 series racks, which can be compared to the now more popular 500 series format.
Its ability to remove the harshness without degrading the overall tone made it very popular, you've heard it on countless hits. It became a classic and most studios still have 902 de-essers in their racks today.

dbx® 902 at Abbey Road Studios
No threshold !
Easy de-essing
The 902 doesn't use a threshold setting to trigger de-essing. Instead, it compares the selected de-essing frequency level to the full bandwidth level, and uses this ratio to detect the amount of required de-essing on the input signal.
As a result, the unit is able to detect "esses" independently to the material level. No calibration is required when a voice goes from whispering to loud singing.
Video review
Formats
Format
Mac
Windows
32 bit
64 bit
32 bit
64 bit
AAX*
RTAS
Audio Units
VST
VST3
* AAX for Pro Tools 10.3.6 and above
dbx is a registered trademark of HARMAN and is not affiliated with LSR audio.
Copyright 2015. All rights reserved. Emmanuel Dubecq.